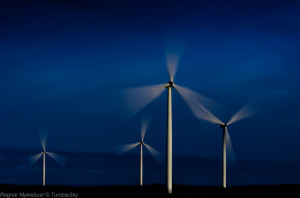 September 2013 I sat my wakeup call at "early" – way too early for my taste – but I had to get on the road way ahead of sunrise. Pluss adding enought time for a shower, breakfast and coffee. I need food and coffe to function in the morning, and not having breakfast will make my mind out of focus and leaving me sluggish, none good properties to have when doing some photography. The road to the windmill park (Høg-Jæren Energipark) was mostly deserted but still I almost missed the sunrice. Reminder to myself: Have enough fuel in my car makes life a little less hectic.
I arrived just as the sun broke over the far away montains. But being prepared I had already found my spot on a sunday trip with my wife and memorized it. Therefor I managed to setup my tripod and camera and do a couple of testshots with composing before mounting one of my ND filters – a ND400.
The idea for these pictures came a good month ahead of this day. There is allways a lot of good inspiration to find on the internet. Long exposure is one of my favorites and it came to me that there was few windmills with long exposure. From earlier visits to this windmill park I realized I would have to do a sunrice or sunset picture. With sunset I would have to go out again and scout for a new location, but with sunrice I already had a good plan. I "only needed" the right weather and wind condition – not to much to ask for? Windmils obvious need wind and for this I needed wind from south east – but more south than east and enough to have them spin with a good speed. The Sky should have some clouds, but not all covered. Didn't find any to supply these conditions on eBay so I had to wait. The following month I had an eye to the weather forcast all evenings. A friday evening the forcast was promessing for the next morning and so be it: I assembled all I needed. Camera, sturdy tripod, a wired remote for my camera, newly charged battery, the two lenses for covering 24-70-200mm / f2.8 and a ND8 + ND400 filters. Warm clothing and workgloves is good to have in Norway even at early autumn.
My main aim was to get "a whole circle" of the blades, therefore I wanted a somewhat dark sky with the sunrice. I did a rough time of a full circle for one blade and concidered if I should do this or have 1/3 as exposuretime. Bth would cover the 3 blades of the windmill into full circle on the shot. The shots for a full circle exposuretime given one blade made the best result this morning. After these shots were done, I readjusted exposuretime and got some shots with blades doing only a smaller sector. Some of these was even more pleasing than the "full circle".
These pictures are adjusted in Lightroom to get a little more blueish tint to the heaven, and also adjusting the color temp as the sun was giving the thypical mornig yellow. Shooting RAW makes all these adjustments easy in Lightroom.
Ragnar Myklebust is TumbleSky Photograpy || Copyright © All rights reserved.